Local Sacramento food truck operator, Andrew Blaskovich (aka "Drewski"), has been on the Sacramento scene for over two years now, serving up gourmet sandwiches to hungry crowds.  With well over 15,000 Twitter and Facebook followers, he is most certainly a force to be reckoned with and has been recognized by Food Network as one of the Top 10 food truck operators in America.  Drewski's has received rave reviews in local print and media and is currently ranked #1 on the KCRA "A" List and was voted #1 best Food Truck by Sacramento News & Review.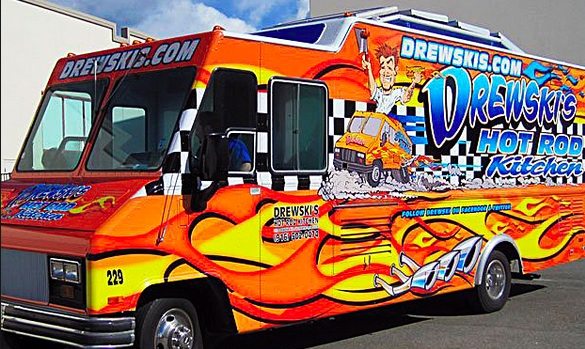 In a growing trend, the success of food truck operators has convinced some to open brick-and-mortar locations as well.  For Blaskovich, his foray into the brick-and-mortar restaurant business started with a Midtown Sacramento commercial property operated by Republic, a large sports bar, located across from the Sacramento Memorial Auditorium.  He partnered with the owners to provide his signature dishes and experienced tremendous success ever since.  Drewski's second brick-and-mortar location is essentially a small café positioned within the lobby of a commercial office building on Iron Point Road in Folsom.  However, Drewski's third brick-and-mortar really takes the cake.
Click here for related articles written by the Sacramento Bee, Cowtown Eats, and Sacramento Business Journal.
In September, the highly followed and well-known food truck operator opened a free-standing Drewski's Hot Rod Kitchen at McClellan Park in Sacramento County.  Drewski took over the restaurant space formerly occupied by Café Le Monde at 5504 Dudley Blvd and is excited because he now controls a large physical restaurant location (including outdoor patio).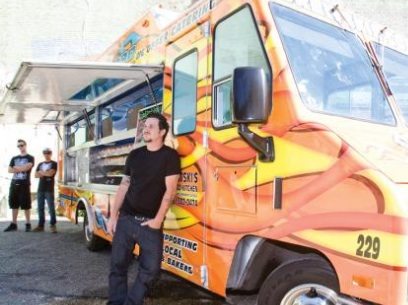 According to Drewski, "the new space offers significant advantages and makes all the sense in the world".  Here's a few of the benefits: 1) Drewski now has access to a larger kitchen facility, where all the food will be prepared and distributed from one convenient location for the brick-and-mortars, food trucks, and full service catering events.  Logistically, 2) he can store his food trucks onsite (including a brand new $80,000 high capacity mobile kitchen) without having to rent parking space elsewhere, saving over $1,000 per month.  And to top it all off, 3) McClellan Park is now home to a new 72,000 square foot sports venue, which opened last December. 
Jackson Sports Academy (JSA) primarily hosts girls "club" volleyball with 12 indoor courts that attract thousands of players and spectators each weekend.  Many other sports, activities and events utilize the facility year round, including wrestling, boxing, and mixed martial arts.  In 2014, JSA plans to expand to approximately 200,000 square feet and will offer indoor basketball and soccer as well.  With the masses of people now flocking to McClellan Park for sporting events, Ken Giannotti (Senior Vice President, McClellan Park) said "it was a natural to welcome a popular food operator that we're confident will serve both our growing business community and new found sports enthusiasts alike".
In a rather unlikely story, the circumstances leading to this point of connection between Drewski's and McClellan Park actually started on Twitter a few months ago.  Drewski recalls "one Sunday night, I randomly 'followed' a Sacramento commercial real estate broker on Twitter… next thing I know, Brian Jacks, who leased the space to JSA, sends me an email describing this amazing opportunity at McClellan Park.  I called him around 9:30 pm and we talked for a while.  Now look where we are.  This is awesome!" 
Article contributed by Brian Jacks
Brian Jacks is a Sacramento commercial real estate broker (since 1996) specializing in commercial leasing and investment sale transactions for retail, shopping centers, multifamily, apartments, senior housing, office, industrial, mixed-use, and special purpose properties.  Having spent over 20 years with Wells Fargo, he personally facilitated the underwriting, approval and funding of almost 250 commercial real estate loans totaling over $1 billion in proceeds.
Jacks is a Regional Vice President for EAST WEST Commercial Real Estate, a full service commercial real estate brokerage advisor based in Orange County.  In addition to serving the Sacramento marketplace, he is also responsible for the company's current expansion into the San Francisco Bay Area.  For more information, contact:
Brian.Jacks@EastWestCommercial.com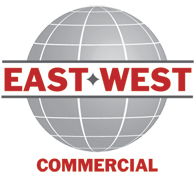 Cell (916) 837-3456 | eFax (916) 313-3778
915 L Street, Suite C440, Sacramento, CA 95814
About EAST WEST Commercial Real Estate
EAST WEST Commercial Real Estate is a full service commercial real estate brokerage advisor specializing in investment sales, commercial leasing and finance for retail, office, industrial multifamily, senior housing, self-storage, mixed-use and special purpose properties throughout California, Nevada, and Arizona.  The firm is headquartered in Orange County, CA.  Brokerage offices include Sacramento, San Francisco, Walnut Creek, San Jose, Oakland, Los Angeles, San Diego, Orange County, Riverside, San Bernardino, Reno, Phoenix and Flagstaff.  Other services include bank REOs, 1031 exchanges, nationwide commercial Business Opinions of Value (BOV's) and Broker Price Opinions (BPO's), mortgage brokerage, lender services, and asset management.