Brian Jacks

–

Principal Broker 
Brian Jacks is a seasoned commercial real estate professional with 20 years experience and has been a licensed California real estate broker since 1996.
Brian started a 20 year banking career with Wells Fargo in 1990 as a Teller in high school.  After graduating with a business degree from California State University, Sacramento, he became a credit analyst with a Wells Fargo commercial real estate lending unit… underwriting loans for securitization (Commercial Mortgage Backed Securities).  Over the next ten years, Brian had personally underwritten and closed more than 225 transactions representing over $1 billion in loan volume for all types of commercial income property throughout the Western U.S.  Throughout this period, he also took responsibility for the continuous design, testing, user acceptance and staff training for a sophisticated Excel-based underwriting loan model used by Wells Fargo's nationwide lending platform.
In 2006, Brian was tapped by senior management to lead a new initiative in San Francisco, where he hired and led a staff of 18 loan processors and underwriting analysts in support of West Coast loan production totaling approximately $2.5 billion per year.  In this role, Brian developed and implemented numerous management reporting tools, processes, and procedures to streamline workflow and improve efficiency.  He also created a six month training program for junior lenders totaling 40 hours of classroom instruction.
In 2008, commensurate with the downturn in commercial real estate, Brian accepted a strategic sales/marketing role to enhance bank-wide cross-sell opportunities by connecting over 20 Wells Fargo commercial businesses, representing more than $4 billion in annual revenue.  He led a team that strategized with national sales managers from various commercial lines of business to identify highly targeted sales leads through use of data mining techniques.
Going back to his roots, Jacks joined East West Commercial Real Estate as Northern California Regional Vice President in 2011 and formed is own brokerage (JACKS Commercial Real Estate) in 2014. He now represents clients directly for the sale, lease and finance of commercial investment and owner/user properties throughout the greater Sacramento area.
Education

Brian holds a B.S. from California State University, Sacramento with a major in Business Administration and dual concentrations in Finance and Insurance.

Location

Brian was raised in Woodland, CA, just 30 minutes outside Sacramento. After attending high school in nearby Davis, he relocated to Sacramento to attend California State University, Sacramento and has been living and working in the local Sacramento market ever since.

Contact Information:

Cell (916) 837-3456 | eFax (916) 313-3778

915 L Street, Suite C440, Sacramento, CA 95814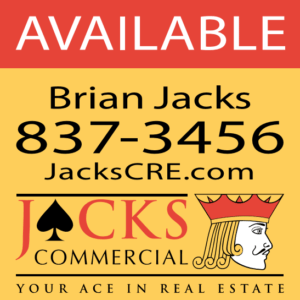 View all of my commercial real estate listings for sale or lease.
Get in touch today and we'll happily discuss your commercial real estate needs.
Commercial Real Estate is Our Specialty
Sacramento Commercial Real Estate expends a great amount of effort and resources toward research, our commercial real estate brokerage services systems, property acquisition, financial and investment analysis, and client relations.
The experience that our professionals at Sacramento Commercial Real Estate bring include market analysis, research, market knowledge, negotiating skill, financial and cashflow analysis, and commercial real estate sale and lease transaction expertise.
Our goal is to bring quality properties to the market to assist investors and lenders in selling their assets to qualified investors. Our commercial real estate brokers are well connected to asset managers and loan servicers of the nation's top financial institutions, as well as to the investor and brokerage community.
Commercial Real Estate Brokerage

Lease and Sale Transactions, REO's / Bank Owned Commercial Real Estate, BOV's / BPO's – Commercial Broker Price Opinions, 1031 Exchanges Sacramento, Apartment & Commercial Short Sales, Investment Consultation and Transactions, Financial Analysis, Market Research, Internet Marketing / Social Media, Value-Add Analysis, Loans and Equity Financing
Lender Services

Commercial Broker Price Opinion (BOV's / BPO's). Commercial BOV / BPO, Assets we Service: Apartments, Office, Industrial, Retail, Senior Housing, Triple Net Properties, Mixed Use, Asset Management & ORE Brokerage and Marketing
Asset Management

Assets we service: Apartments, Office, Industrial, Retail, Senior Housing, Triple Net Properties, Mixed Use, Leasing, Lease Analysis, Lease Negotiation, Financial Modelling, Budget & Cashflow Analysis, Property Reports, Inspection Reports, Management of Vendors and Contractors, Value-Add Analysis, Repositioning, Asset Disposition
Let us take care of your commercial real estate needs and get you into the commercial real estate you desire!