Empty restaurant buildings continue to sit idle throughout much of the greater Sacramento area.  Not so for the old Jolly Burger located at 7150 Auburn Blvd (historic Route 40) in Citrus Heights.  Under a new operator, the local burger stand will re-open with the same name on Saturday, November 10, 2012.
Jack and Sue Darting were the original proprietors of Jolly Burger for many years and worked hard to create a memorable dining experience.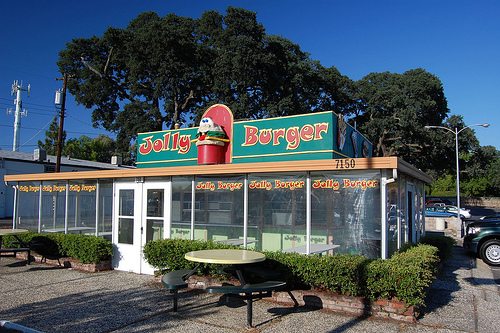 In addition to friendly staff, customers were always greeted by a three dimensional cheesy hamburger affixed atop the building… one of Jack's personal creations. The Dartings offered good old fashioned quality food including burgers, sandwiches, frosties, sundaes and shakes.  Their food was always a hit with the locals and especially students from Sylvan Elementary and Middle School, right across the street.  One can still find amazing consumer reviews on various websites like Yelp, Urban Spoon and Insider Pages.