Empty restaurant buildings continue to sit idle throughout much of the greater Sacramento area.  Not so for the old Jolly Burger located at 7150 Auburn Blvd (historic Route 40) in Citrus Heights.  Under a new operator, the local burger stand will re-open with the same name on Saturday, November 10, 2012.
Jack and Sue Darting were the original proprietors of Jolly Burger for many years and worked hard to create a memorable dining experience.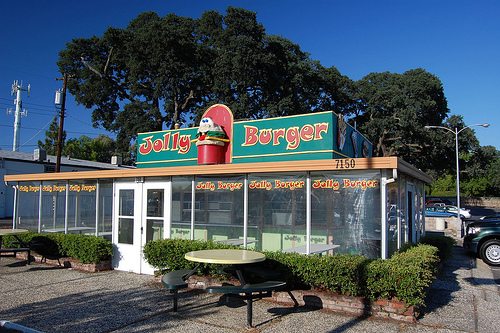 In addition to friendly staff, customers were always greeted by a three dimensional cheesy hamburger affixed atop the building… one of Jack's personal creations. The Dartings offered good old fashioned quality food including burgers, sandwiches, frosties, sundaes and shakes.  Their food was always a hit with the locals and especially students from Sylvan Elementary and Middle School, right across the street.  One can still find amazing consumer reviews on various websites like Yelp, Urban Spoon and Insider Pages.
Sadly, the Dartings chose to retire a few years ago and leased both the name and restaurant building to first one, then a second operator.  Unfortunately, due to the struggling economy, neither could stay in business and both were forced to close.
Fast forward to late Summer 2012.  The restaurant was up for lease yet again.  This time, there were several potential operators negotiating to lease the building and run the restaurant.  Not wanting to go through this process again, the Dartings were extremely cautious to carefully consider the merits and qualifications for each suitor.  Given the fact Jolly Burger had enjoyed such a historically strong reputation, it was important to identify the right operator who would carry the good name forward and make Jack and Sue proud.
Meet Mike Huddleston, a 43-year old native of North Highlands.  It took some convincing, but Mike ultimately beat out the competition as the next operator of Jolly Burger in Citrus Heights.  Mike grew up cooking in his uncle's commercial kitchen and has numerous years of experience in this culinary trade.  Mike is excited to teach his children how to cook at an early age as well.  In fact, several of his seven kids are well grown and intend to work along side Mike in the kitchen right away.  It will be a true family business that seeks to serve the Citrus Heights community with great food in a fun atmosphere.
Article contributed by Brian Jacks
Brian Jacks is a Sacramento commercial real estate broker (since 1996) specializing in commercial leasing and investment sale transactions for retail, shopping centers, multifamily, apartments, senior housing, office, industrial, mixed-use, and special purpose properties.  Having spent over 20 years with Wells Fargo, he personally facilitated the underwriting, approval and funding of almost 250 loans totaling over $1 billion in loan proceeds.
Jacks is a Regional Vice President for EAST WEST Commercial Real Estate, a full service commercial real estate brokerage advisor based in Orange County.  In addition to serving the Sacramento marketplace, he is also responsible for the company's current expansion into the San Francisco Bay Area.  For more information, contact:
Brian.Jacks@EastWestCommercial.com
Cell (916) 837-3456 | eFax (916) 313-3778
915 L Street, Suite C440, Sacramento, CA 95814
About EAST WEST Commercial Real Estate
EAST WEST Commercial Real Estate is a full service commercial real estate brokerage advisor specializing in investment sales, commercial leasing and finance for retail, office, industrial multifamily, senior housing, self-storage, mixed-use and special purpose properties throughout California and Arizona.  The firm is headquartered in Orange County, CA.  Brokerage offices include Sacramento, San Francisco, Walnut Creek, San Jose, Oakland, Los Angeles, San Diego, Orange County, Riverside, San Bernardino and Phoenix.  Other services include bank REOs, 1031 exchanges, nationwide commercial Business Opinions of Value (BOV's) and Broker Price Opinions (BPO's), mortgage brokerage, lender services, and asset management.